Andy Warhol has been a household name all across the planet since the early 1960s. The Pennsylvania-born artist and filmmaker Andrew Warhola became the man behind the Pop art movement after his first exhibition in 1962. He showcased the American consumer culture as a common theme with paintings of objects such as Campbell's soup cans, Coca-Cola bottles, and silkscreen prints of Marylin Monroe and other famous faces.
His love for art worn on the wrist is one of Andy's lesser-known qualities. A prolific watch collector, it is rumored that his eclectic collection included in excess of 300 timepieces. And while most collectors are interested in a watch's horological significance or resale value, Andy Warhol collected them for their aesthetics and value as a work of art. He chose his watches as he did his celebrity friends, for prestige with luxury brands like Cartier, Piaget, Patek, and Rolex.
He kept all his stuff in his New York City townhouse, not in a bank vault. And when his estate was inventoried for the 1988 Sotheby's New York auction, 313 timepieces were counted. Let's take a look at some of the most notable Andy Warhol watches.
Cartier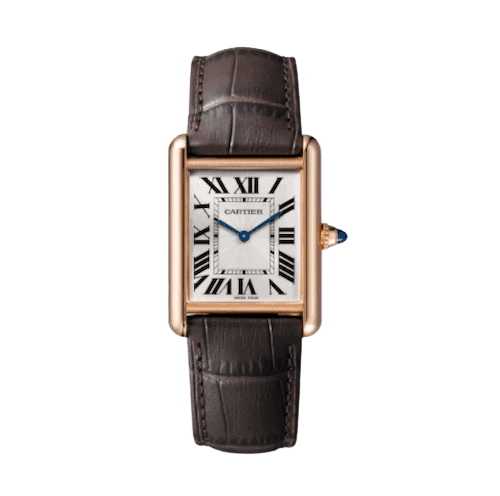 Like most avid watch collectors, Andy Warhol had a favorite. His go-to watch was the Cartier Tank. Louis Cartier designed the original in 1917, over a decade before Andy's birth in 1928. He once famously said "I don't wear a Tank watch to tell the time. In fact, I never wind it. I wear a Tank because it's the watch to wear."
The Cartier Tank watch was inspired by the Renault tanks from the Western Front in World War I. The design featured the brancards as treads and the case as the turret. The iconic watch has remained virtually unchanged with Cartier's classic Roman numeral dial, steel blue hands, and a crown topped with a sapphire.
Piaget
Yves Piaget was a personal friend of Andy Warhol and his connection to the brand still runs deep. To commemorate the 30th anniversary of Warhol's death, Piaget and the Andy Warhol Museum in Pittsburg hosted a "Time Capsules" event in London. Several historic Piaget timepieces were discovered among boxes of Andy's personal belongings.
Notable timepieces found included 18K and 24K yellow gold ingot watches featuring the brand's 9P Ultra-Thin movement, one with electric Beta21 caliber movement, and a mechanical cuff watch with tiger eye dial. Today, the brand pays tribute to the American artist with the Inspiration Watch featuring an 18K rose gold case and hour markers on an elegant lapis lazuli dial.
Patek Philippe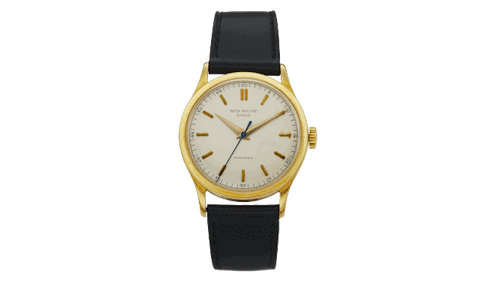 Warhol's love of clean lines and symmetry can be seen in the Patek Phillippe watches found in his collection. In 2006, Christie's auctioned a Patek Philippe reference 2503 in 18K gold with "bunny ear" lugs for EUR 68,000. The brand's first automatic watch, the Calatrava reference 2526 in yellow gold with Breguet numerals was sold in 2013 by Christie's for over EUR 62,000.
The most amazing Warhol Patek, ref. 3448, was sold by Sotheby's auction in 2014 for EUR 265,000. Introduced in 1962, this model holds an important place in the brand's history as the first self-winding perpetual calendar watch.
Rolex
Many of the watches in Andy Warhol's collection were rarely if ever worn as evidenced by the lack of scuffs and scratches on pieces like steel and rose gold Rolex Chronograph ref. 3525. This rare beauty went under the hammer at Christie's Rare Watch event in Geneva in May of 2021.
It sold for CHF 471,000 (just under EUR 430,000). An important piece to the revered brand's history, it was the first time its patented hermetic Oyster watch with chronographic movement was implemented. This reference was produced between 1939 and 1945 in various metals and combinations of metals.
The peculiar and eccentric Pop artist didn't shy away from wearing ladies' watches. He was once spotted sporting a Rolex Ladies Date ref. 69278 with a tiger's eye dial.
A Collaboration with Movado

One would think that the pop art icon, with his eye for design, would have become a designer of watches himself. He did, once. He collaborated with Movado to design the Movado Times/5, a bracelet-style watch featuring contact photo sheets used as the basis. Each link held a photo of a New York City building.
Each of the five links was its own watch and could be set individually. Production was incomplete at the time of Andy Warhol's death, but fortunately, an envelope with his final choices was found shortly after his passing. Only 250 watches were created the next year, laying the groundwork for today's Movado artist series.
Credits to Wikimedia for the photo used in the header.