Born as William Bradley Pitt in 1963 in Shawnee, OK, Brad Pitt is a legendary American actor. He began his career in 1987 and became a leading Hollywood actor. Brad is also a film producer and has won Golden Globe and Academy Awards for both acting and producing.
Watchanistas and horologers are delighted to know that Brad Pitt is also a self-proclaimed "watch guy." His wild popularity makes him one of the most influential celebs in the entertainment world. In one interview he revealed, "Watches are one of the few opportunities to express yourself and for me, a watch is the most steadfast symbol of what we value."
Brad is an ambassador for Breitling and Tag Heuer and owns several of the Swiss luxury watches. At age 58, he has gone through several fiances and wives and has six children, but has managed to cling steadfastly to his extensive watch collection which also includes Rolex and Patek Phillipe.
Iconic Brad Pitt Movies
One of the most interesting things about Brad is his insistence on buying his own watch before a movie shoot. He says it helps him "get into a character's personality." This quirk has resulted in lots of vintage watches in Brad's collection. Movie fans may very well spot one of them in movies like The Fight Club, Ocean's Eleven and its sequels, World War Z, Troy, Mr. and Mrs. Smith, and dozens of other box office hits.
One of Hollywood's most iconic movies of all time casts Brad Pitt in a role with a serendipitous time-related fantasy story. He plays the title role in The Curious Case of Benjamin Button, the story of a child born on the day World War I ended to a mother who died in childbirth. In an earlier scene, a blind clockmaker is about to reveal a clock he built to a crowd in Grand Central Station in NYC. The major event is even attended by President Theodore Roosevelt.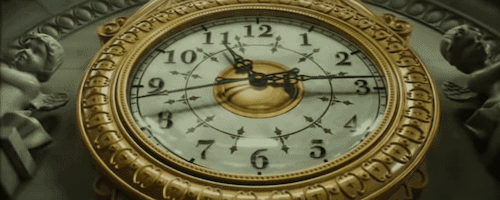 During the period the old man was working on the clock, his only son was sent to fight in WWI and died in battle. Upon revealing the clock, the crowd is shocked to see the second hand turning backward. In his grief, the old clockmaker had constructed the clock to run backwards so that the events of the war would be reversed.
Benjamin Button (Brad Pitt) is born as an old man and lives his life in reverse dying as an infant. You may not spot any watches on Benjamin as he goes from old to young, but it's a riveting story about time. It's based on a story by F. Scott Fitzgerald.
Film director Quentin Tarantino brings his love of Hollywood's colorful history to life by casting Brad Pitt and Leonardo DiCaprio back in time in Tarantino's featurette "Once Upon a Time in Hollywood." Set in the year 1969, Brad plays the role of Cliff Booth, the mysterious and aloof stunt double and best bud to fading actor Rick Dalton (DiCaprio.) Rick bemoans the deterioration of his career and complains that his only job offer is filming Spaghetti Westerns in Rome.
Although he's an over-the-hill actor, Rick still lives in a ritzy neighborhood, and Roman Polanski (Rafal Zawieucha) and Sharon Tate (Margot Robbie) are his neighbors. Cliff Booth lives in a trailer with his dog. The story premise revolves around an unwitting entanglement with the infamous Charles Manson and his followers and the tragedy that happened in Hollywood on August 9, 1969.
Tarantino and his crew bring the year 1969 in Hollywood back to life with incredible settings from period facades for buildings to details like Cliff Booth's white pants, Robert Redford hairstyle, and shiny Citizen 8110 Bullhead vintage watch on a thick brown leather strap. The watch actually came out in 1972, but still portrays the fashion of the day. It has a goldtone case and dial and three black subdials. The name "Bullhead" comes from two buttons on top of the watch.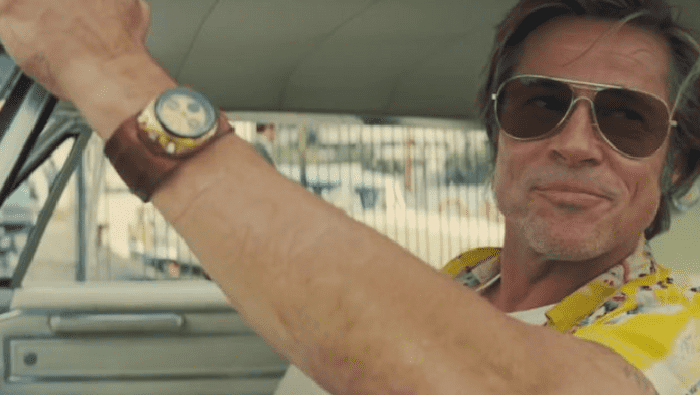 Brad Pitt's Luxury Watches
Citizen watches are of fine quality, and a vintage Citizen 8110 like Brad wore in "Once Upon a Time in Hollywood costs well over $500 on sites like eBay. But when you earn over $30 million a year as Brad does, you have a few luxury timepieces such as Patek Philippe, Breitling, and Rolex in your repertoire.
Patek Philippe Nautilus 5711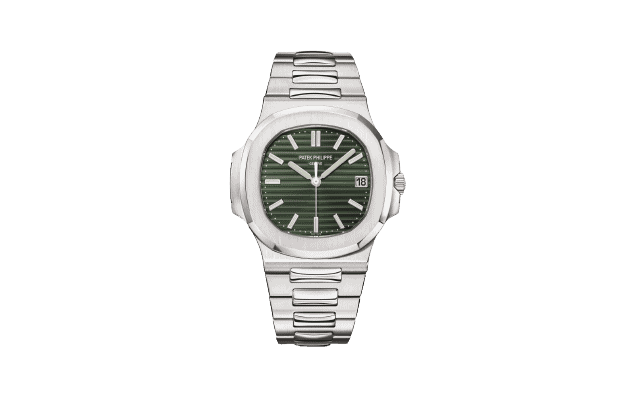 A gift from ex-wife Angelina Jolie during happier times, Brad's Patek Philippe Nautilus is a luxury sports watch that can be dressed up or down. The 40 mm stainless steel case has a matching bracelet. The dark dial features baton indices for a minimalist look. A date window is at 3 o'clock, and the lens is a sapphire crystal. It is water-resistant to 120 meters (394 ft.)
Breitling Emergency Watch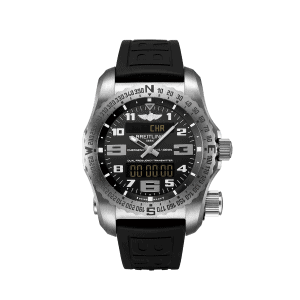 As an ambassador to the Breitling brand, Brad has quite a few in his collection. His latest is the Breitling Emergency Beacon Watch. This innovative timepiece is the first in the world with a dual-frequency transmitter and a built-in personal locator beacon. Together, these complications launch alerts and guide rescue missions. The 5.1 case is black titanium. It features a 12/24 hour LCD digital display and Swiss quartz movement. The strap is black rubber.
TAG Heuer Carrera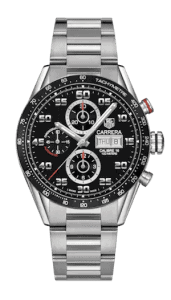 Like the roles he plays in movies, Brad likes to add versatility to his watch collection. He is an international ambassador for TAG Heuer excluding the US and Canada. His own is a TAG Heuer Carrera with a 43 mm stainless steel case and matching bracelet-style band. The black analog dial features silver hands, 3 subdials, a day/date display at 3 o'clock, and a tachymeter bezel. It's powered by Swiss automatic movement.
Breitling Avenger Chronograph Watch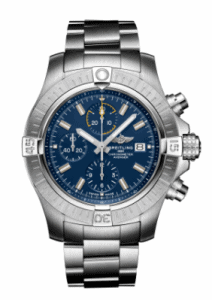 Brad has also been seen wearing a Breitling Avenger, a chronograph watch with a distinctive military look and really compliments the rest of his watch collection. It has a 45 mm black titanium case and a unidirectional rotating bezel. The khaki analog dial features white Arabic numerals, 3 subdials, and luminous gunmetal hands, and a date window at 3 o'clock. It's powered by a self-winding automatic movement. It has a 48-hour power reserve and is water-resistant to 300 meters (1000 ft.) The strap is khaki leather.
While we are talking about Breitlings it is also worth mentioning that Brad has a Premier B01 Chronograph 42 Norton Edition in his collection too. On top of this are the Rolex staples such as the Rolex's GMT Master II , Rolex Submariner, Rolex Daytona and more.
Credit to Wikimedia for the image used in the header.