Casio G-Shocks have a huge range of buttons and functions. And sometimes it is an absolute pain to figure out how to achieve something as simple as changing the time or time format.
So, in this quick post I am going to show you how to change your G-Shock to Military time (aka – 24hr time) without all the hassle.
The first thing to understand is the four main buttons on your G-Shock which I have conveniently labeled from A – D below.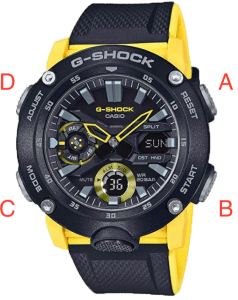 These four buttons are present on all Casio G-Shocks and always laid out in the same locations.
To Set Military Time on a G-Shock
In order to set a G-Shock to Military time (aka 24 hour time) follow these steps:
Press the Mode Button (C) until you are in the timekeeping mode
Hold down the Adjust button (D) for 3-5 seconds until the seconds counter starts flashing
Depending on the specific G-Shock you have there are a few options here:

If you have an illuminator button at 6 o'clock – press this to change to military mode.
Next option: Press the Reset button (A) to change to military mode
Otherwise: Press the mode button (C) to cycle through the various time parts (seconds, minutes, hours) until you get to the 12 / 24 hour time, then press the Reset (A) button
These steps should help you easily change your G-Shock to or from 24 hour mode.