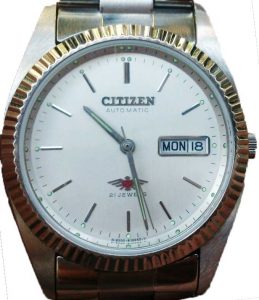 Citizen produced a whole range of stylish dress watches back in the 70s and 80s with a 21 jewel automatic movement. In fact, they are one of the few Citizen Automatic watches around.
They have since become known a the Eagle 7 because of the Citizen eagle logo at the bottom of the dial, with a red 7 emblazoned in the middle of the eagle.
You can see an example here of a vintage white Citizen Eagle 7. There was a large range of colors, dials, bands, and shapes, and depending on when you look online, your finds may vary a lot from mine.
There appears to have been white and black faces, and sometimes blue and green.
[product-button url="https://www.ebay.com/sch/i.html?_nkw=citizen+eagle+7&mkcid=1&mkrid=711-53200-19255-0&siteid=0&campid=5338916180&customid=CitizenEagle7&toolid=10001&mkevt=1″ text="SEE PRICES ON EBAY"]
The Style & Features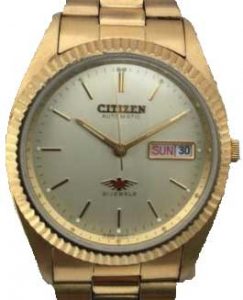 Citizen Eagle 7 Gold & White[/caption]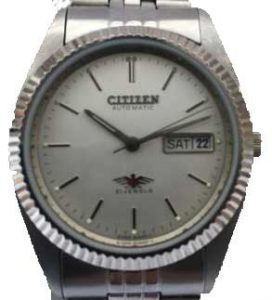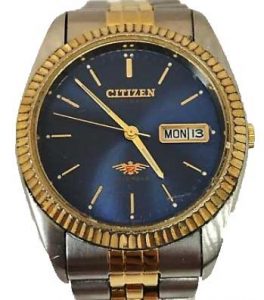 The Eagle 7 is a classic from Citizen for a reason. It has seriously clean with very little to distract you. Of course, there is the eagle and inner 7 at 6 o'clock, and the day/date window at 3 o'clock. But you have to expect a little function and a logo.
Other than that, it is a single-colored dial with very fine, raised hour markers and a tiny minute train around the edge.
The hands are lumed, as is the top edge of the hour markers, but otherwise, it is all silver on white (at least in the case of the white version above.
Citizen used their Miyoto 8200 Automatic movement in these watches, with 21 jewels, 21,600 vph, and can keep power for about 45 hours. It featured a day/date function, could also be manually wound and was their workhouse automatic movement, and was used for a long time.
In terms of bands, the classic was an all-steel 3 piece band or a jubilee band depending on the model. As I mentioned earlier, there were a lot of different variations. This also includes different color dial/hand/marker combinations like black/gold, gold/gold, and many others.
The 7 on the eagle is also sometimes hard to distinguish as it was not always red!
Specifications
Miyota 8200, 21 jewels automatic movement
Hardlex scratch-resistance crystal
Uni-directional bezel for dive-time measurement
Water Resistance 100m (330 ft)
37mm diameter case (without crown)
47 hours power reserve
[product-button url="https://www.ebay.com/sch/i.html?_nkw=citizen+eagle+7&mkcid=1&mkrid=711-53200-19255-0&siteid=0&campid=5338916180&customid=CitizenEagle7&toolid=10001&mkevt=1″ text="SEE PRICES ON EBAY"]