Doctor Strange played by Benedict Cumberbatch in this Marvel masterpiece is one hell of a superhero. Able to bend time and space like nobody since Einstein invented relativity, his wizardry seems almost unmatched.
Of course, it didn't start out that way. He was an actual doctor in the beginning, albeit an arrogant and egotistical one. But a car crash soon took care of that.
The story doesn't end there though, as he soon learns his time and space bending skills at the hands under the tutelage of the Ancient One and Mordo.
And during the film, he wears a single watch. And many of you are probably wondering what model watch Doctor Strange chooses to wear to bend time and space the way he does?
Jaeger LeCoultre Master Ultra Thin Perpetual
(Ref: CAU1114.FT6024)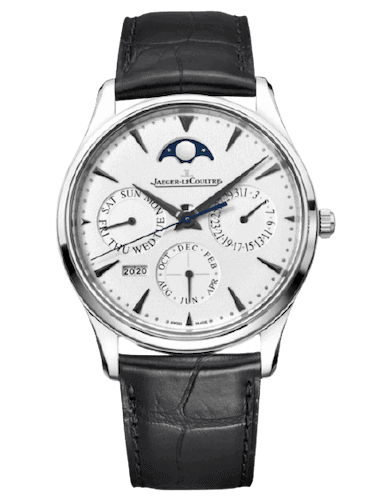 The Jaeger Lecoultre Master Ultra Thin Perpetual is certainly a watch befitting a successful doctor like Doctor Strange. And it is the only watch we see him wear. Despite this fact, he seems to have an extensive collection.
[product-button url="https://www.ebay.com/sch/i.html?_nkw=Jaeger+LeCoultre+Master+Ultra+Thin+Perpetual&mkcid=1&mkrid=711-53200-19255-0&siteid=0&campid=5338916180&customid=JaegerLeCoultreMasterUltraThinPerpetual&toolid=10001&mkevt=1″ text="SEE PRICES ON EBAY"]
[product-button url="https://www.jaeger-lecoultre.com/ch/en/watches/master/master-ultra-thin-perpetual/1303520.html" text="SEE ON JAEGER LECOULTRE"]
And it certainly makes sense that a superhero who manipulates time has a good timepiece on his wrist. Especially one that has a perpetual calendar like this one.
The Master Perpetual can keep track of Year, Date, Hour – Minute, Day, Month, Moon phases, and Seconds. So, Dr. Strange will certainly know exactly what time it is.
And much of this is done via the 3 sub-dials and the minute year window at 6 o'clock. The moon phase gives the watch a unique style and perspective too, with that particular complication positioned nicely at 12 o'clock.
The hour markers around the grey dial are applied black nickel, and the hands are Dauphines.
Jaeger LeCoultre has not stopped there though as is typical of any expensive Swiss-made watch.
The internal movement is finely crafted and packed full of quality components that only the Swiss can make. It is an automatic movement hand-built with 336 components. It has 2800 vph, so is quite high-beat giving it a smooth moving second hand. There are 46 jewels throughout, which smacks of quality too.
The case is white gold, which starts to give us a hint of the price tag if you haven't looked yet.
[product-button url="https://www.ebay.com/sch/i.html?_nkw=Jaeger+LeCoultre+Master+Ultra+Thin+Perpetual&mkcid=1&mkrid=711-53200-19255-0&siteid=0&campid=5338916180&customid=JaegerLeCoultreMasterUltraThinPerpetual&toolid=10001&mkevt=1″ text="SEE PRICES ON EBAY"]
[product-button url="https://www.jaeger-lecoultre.com/ch/en/watches/master/master-ultra-thin-perpetual/1303520.html" text="SEE ON JAEGER LECOULTRE"]