If you're eyeing the Orient Polaris GMT watch you are just in the right place. I'll tell you everything about it in this review – the things you'll love, the things you'll hate, and the things that will leave you baffled.
This is a men's dress watch, and the size of the case makes it pretty clear that it was not supposed to be a unisex watch.
At the same time, the features make it clear that this watch was designed for the world traveler, who needs something strong, durable, and functional.
Orient Polaris GMT Specifications
The Orient Polaris is one of the best affordable GMT watches. It's not exactly a cheap watch, but it has sapphire crystal glass, automatic movement, and a GMT dial. All of which are features we are used to seeing on some really high-end watches.
Before we get to the detailed features of this dress watch, take a look at its basic specs:
Orient Cal. 40P51 automatic movement (hand-winding & hacking)
Sapphire crystal glass
42 x 11.98 mm stainless steel case
Brown (faux) alligator leather grain strap with deployment clasp
50m / 165ft water resistance
Date window at 3 o'clock marking
GMT dial – 24-hour format
Push/pull crown at 3 o'clock
This is a watch intended for travelers, people who can really take advantage of the GMT function. If that dial is not really up your alley, I suggest you take a look at some others – Vincero watches are a lot cheaper and look just as elegant. You will still wear a beautiful watch on your wrist, but you'll actually save some money.
But if you're here specifically for that GMT dial, then great! You can read all about it, and the other features of the Orient Polaris GMT in the rest of our detailed review!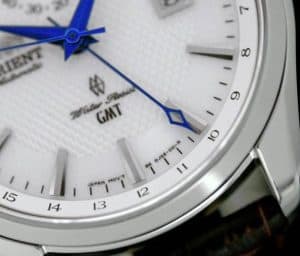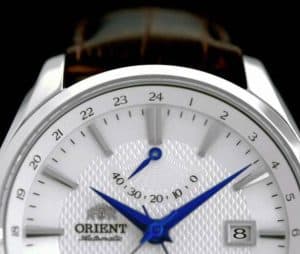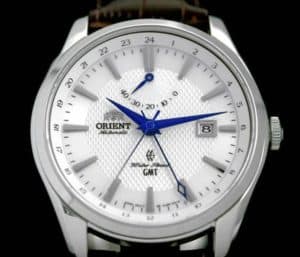 The GMT Dial
The dial of this watch is designed so that you are able to track two different time zones. The face of the dial is white with guilloché detailing, and it has a lot of things going on. There are the normal hour and minute markings (batons), and then above those, there are the GMT Arabic numeral markings. Those are slightly beveled, which gives the dial a very clean look overall.
At the upper part of the dial, just below the 12 o'clock marking, you can see the power reserve. It is not too detailed, but it shows you just enough information to know when your watch is about to run out of power. The power reserve hand is very short, and it is blue, just like all the other hands.
The Polaris watch actually has 5 different hands – hour, minute, second, GMT, and power reserve. And all of them are blue – but like really blue. The color especially contrasts with the white of the dial, so your watch is easily legible at all times.
The GMT hand is particularly interesting – it has a hollow tip, which has a little bit of lume in it. You can set this hand to a different time than the other hands, which allows you to easily keep track of time when you are in a different time zone. Or, if you prefer military time, you can just set it to the same time as the other watch hands.
The dauphine hour and second hands allow you to tell time just like on any other wristwatch.
The dial of this watch is really busy, and yet it looks pretty elegant and simple at first glance. But, you can also see the Orient logo at the 9 o'clock hour marking, and the GMT indication at the 6 o'clock hour marking. That's all in addition to the date window at 3 o'clock.
[first-two-product-column url="https://www.amazon.com/Orient-Polaris-Japanese-Automatic-Stainless/dp/B013B0QIEM/?tag=watchinfo0803-20″]
[last-two-product-column url="https://www.ebay.com/sch/i.html?_nkw=Orient+Polaris+GMT&mkcid=1&mkrid=711-53200-19255-0&siteid=0&campid=5338916180&customid=OrientPolarisGMT&toolid=10001&mkevt=1″ text="SEE PRICES ON EBAY"]
The Case & Bracelet
The case of the Orient Polaris GMT is one of the best features about it. It is very elegant, which makes sense since this is a dress watch. The steel is highly polished and looks very smooth and shiny. But it is rather big – and this is something that's hard to notice until you actually hold the watch in your hand.
The case diameter is 42 mm and it is 11.98 mm thick. The lug width is 22 mm, and the lug to lug distance is actually 48 mm. Those are without a doubt measurements of a men's watch. But, if you have smaller wrists, the watch will probably look too big on you, since it will easily take up your entire wrist.
Also, at 11.98 mm this is a rather thick case. But it's gorgeous on either side – the bottom of the case is see-through, and you can see the mechanics behind the automatic movement of the watch.
The crown is at 3 o'clock, and it has a push/pull mechanism. You use it for adjusting everything – hacking the watch, adjusting the date, and setting the GMT hand to the time you want.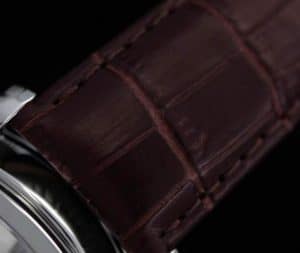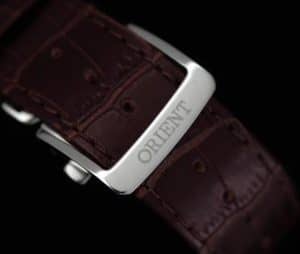 The dial is protected by sapphire crystal glass, which is a shocker for the price. Sapphire crystal is a premium material, used in watches that have price tags in the tens of thousands of dollars. It is resistant to impact and scratches, and the most durable type of glass used in watches.
It has just one small downside – in case you manage to break it, the glass will shatter into about a million different pieces. And you can't repair it; you can only replace it, which will not be a cheap adventure by any means.
The bracelet is really underwhelming. And it helps understand how a watch with such a sophisticated case and movement could be so affordable.
It is a brown leather alligator grain strap with a deployment clasp. The clasp is fine – it's a dual button deployment clasp, which makes putting the watch on and off quick and effortless. But the strap itself is not a part of the watch you'll enjoy – for one thing, it is brown, and that's not a color I like. Plus, it's basically faux alligator leather.
Personal preferences aside, leather gets dirty pretty fast, and it's not particularly easy to clean. It also creases, and after several months or a year, you will notice serious creasing in the strap of your watch, especially around the area where you tend to buckle it.
The Automatic Movement
The Orient Polaris GMT watch has in-house automatic movement – Orient Cal. 40P51. And you can actually see the rotor from the back of the case. It has an Orient logo imprinted on it, but honestly, it doesn't look as luxurious and sophisticated as it does on some other Orient watches.
The automatic movement supports both hand-winding and hacking. This is particularly useful if you want to set two different watches to the exact same time.
The general benefit of automatic movement is the power reserve. With the Polaris GMT, the power reserve is 40 hours – meaning that the watch will continue to tick for 40 hours max when it is fully wound up. The indicator on the dial will let you know how many hours of ticking you have left in your watch at all times, which is very useful.
Additionally, the automatic movement is the most visually appealing of all. The second-hand doesn't tick, but rather sweeps over the time markings – so you can actually see time fly by.
And it has one downside – it is the least accurate of all watch movements. But the Polaris GMT is fairly accurate, with an average discrepancy of + 1.6 seconds/day.
[first-two-product-column url="https://www.amazon.com/Orient-Polaris-Japanese-Automatic-Stainless/dp/B013B0QIEM/?tag=watchinfo0803-20″]
[last-two-product-column url="https://www.ebay.com/sch/i.html?_nkw=Orient+Polaris+GMT&mkcid=1&mkrid=711-53200-19255-0&siteid=0&campid=5338916180&customid=OrientPolarisGMT&toolid=10001&mkevt=1″ text="SEE PRICES ON EBAY"]