Ever wondered what type of clasp is on your watch band? Maybe you're just curious, or maybe you need to replace it and you'd like to purchase the spare part yourself. Whatever the reason, it's certainly something that you should be familiar with, at least superficially, if you wear watches on a daily basis.
It might surprise you to see just how many different types of watch clasps exist. So, let's check them all out, and help you figure out which clasp is the one you are dealing with every day!
Quick Breakdown
Basically, there are two major types of watch clasps – deployant clasps and buckles. Deployant clasps are usually seen on metal watches, while pin buckles are more frequently seen on leather and rubber watches. But, definitely not all the time.
There are several different types of the deployant clasp, and I'll tell you about each one. But all of them have something in common – they are considered safer because even if they open up while you're wearing your watch, it won't fall off your wrist.
This can't be said for regular buckles; if a tang buckle comes undone, your watch is going to hit the ground faster than you can say "tang".
So, let's take a more detailed look at all the different versions of the deployant and tang clasps that you'll see on a watch. And I'll also talk to you about their adjustability, which is probably one of your main concerns if you are shopping for a present, or just generally have issues with watches fitting properly.
1. Deployant Clasp
The basic version of the deployant clasp is most often seen in men's watches. It's exclusively used in metal watches, and it's the clasp type that is most widely used in watches.
A regular deployant clasp unfolds into thirds, to allow your hand to be able to get through the band of the watch. It then locks in place with a hook-type latch, which can sometimes be awkward to undo.
But it's definitely at the top, in terms of how secure it is. However, watches with this clasp will have to be resized by a professional, since this often includes removing pieces of the metal watchband.
I'm personally not a big fan of these, since the hook can often get stuck. And if you use too much force when opening it up, you risk breaking it off. I prefer deployant clasps with push buttons over the regular ones, which we will check out next.
Found in: Metal watches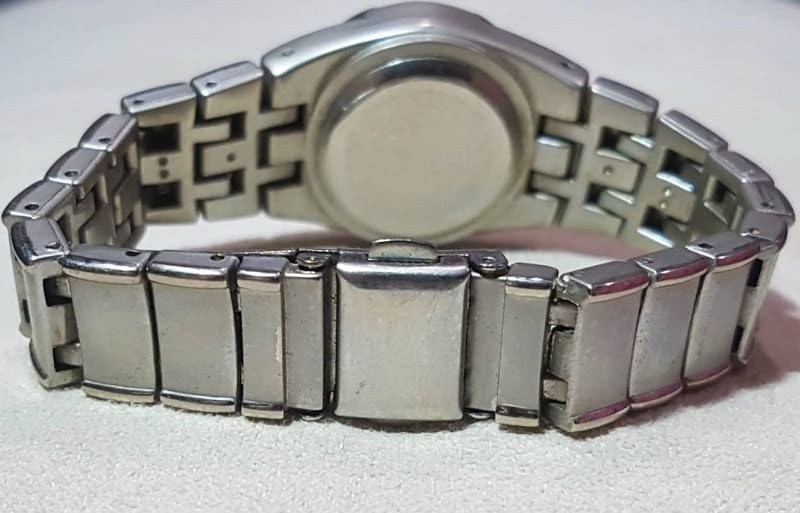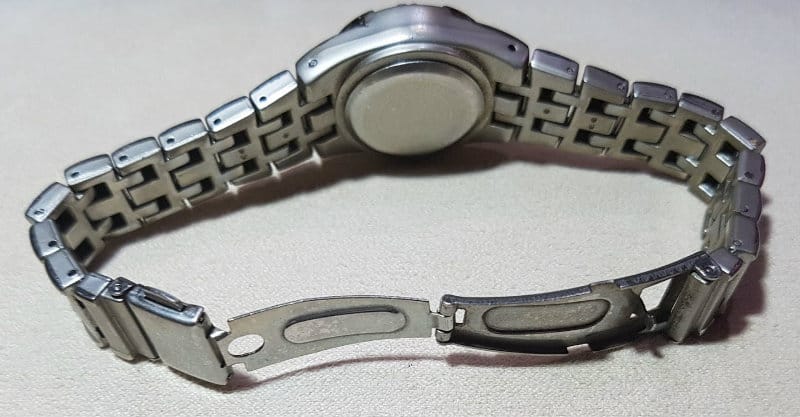 2. Push Button Deployant Clasp
Push button deployant clasps function in the same way as the regular ones, but they look different. The part of the clasp that is visible when the watch is buckled is much smaller – about a third of what you see on a regular deployant clasp.
And these are much more convenient to open up, due to push buttons. There is one on either side of the clasp, and you need to pinch them at the same time when you want to take off your watch.
Additionally, these clasps are actually more secure than regular deployant clasps, since the buttons ensure that they can't open up on their own.
In my opinion, they also look better, because they are less noticeable. However, if you want to adjust the size of a watch with a push-button deployant clasp, you will still need to take it to a professional. But overall, these are definitely my favorite types of clasps on metal watches.
Found in: Metal watches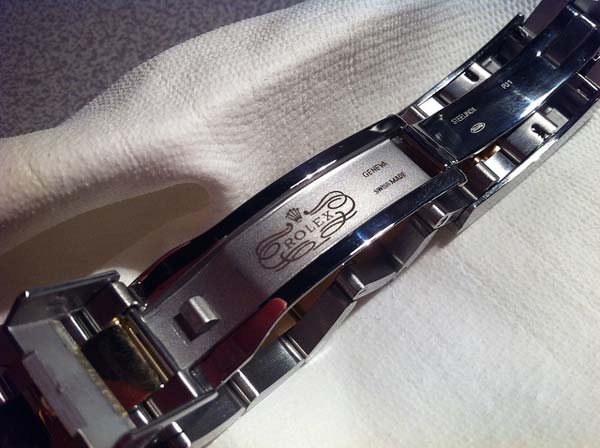 3. Fold-Over Push Button Deployant Clasp
This is a triple lock steel clasp that goes the extra mile in ensuring that your watch stays put on your wrist. It features push buttons on the sides, just like the previous clasp type, but it also has a snap latch that folds over the main clasp.
The clasp part that is visible when you are wearing the watch is pretty big. It's even larger than the regular deployment clasp, and that's not something I personally like.
I prefer it when the clasp is small and discreet – I want people to notice my watch and not the humungous deployant clasp. However, these are by far the safest types of clasps, as they feature several mechanisms that ensure that it won't accidentally open up.
They are often seen on more expensive Rolex watches and other dive watches.
And that's exactly why they are most frequently used in sports watches – with them you actually need the added security of the triple lock. As for the adjustability of the watches, the same goes as for the previous two types.
The clasp needs to be removed, and metal pieces of the band need to be taken out in order to shorten the watch. So, you will need to have it resized by a professional.
Found in: Metal watches, most frequently sport watches
4. Hidden Deployant Clasp (Butterfly Clasp)
The butterfly clasp is completely invisible when you're wearing the watch. It makes the band look seamless like the watch is magically staying buckled without the clasp. It's perhaps the most elegant type of watch clasp that you will encounter.
But how does it work? Well, it consists of two metal hinges, which unfold to opposite sides. Think of it like a butterfly spreading its wings – hence the name.
When you want to put the watch on your wrist, you just fold them in and snap them together. Some butterfly clasps also feature hidden push buttons, which makes them easier to take off. But not all of them.
If you generally struggle with deployant clasps or find them uncomfortable, then these are going to be a nightmare for you. Since the hinges unfold towards your inner wrist, you should always wear these watches looser than you would leather ones with a tang buckle.
And if you ever want to adjust them, you will need to take them to a professional for resizing.
Found in: Metal watches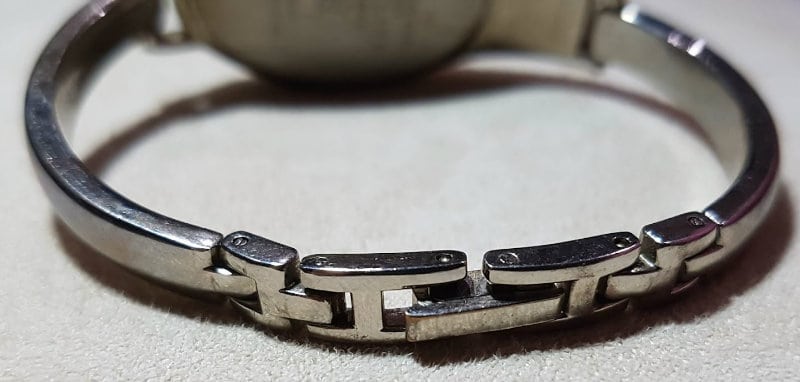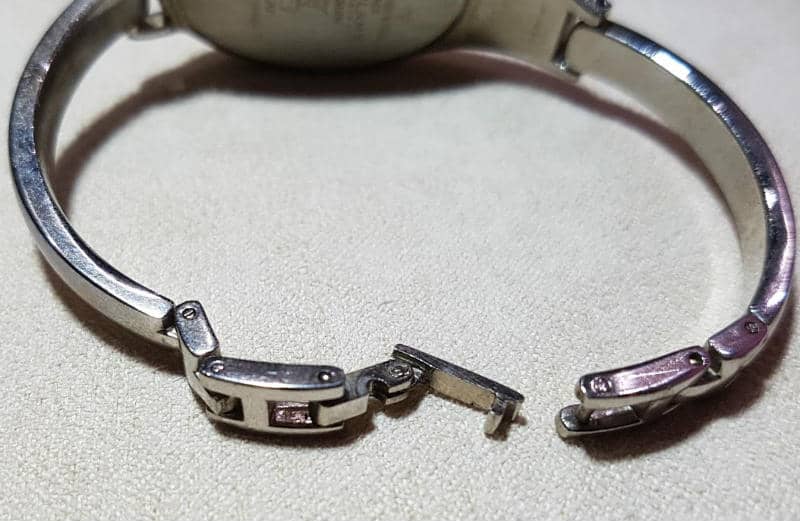 5. Jewelry Clasp
This clasp comes in many different shapes, sizes, and colors. It's pretty much the same type of clasp that is frequently seen in bracelets – that's where it gets the name from. A jewelry clasp has two main parts – the latch on one side of the watch, and a hole on the other side. The latch goes through the hole, and then it folds over and snaps closed. Just like in the photos:
The best thing about jewelry clasps is that they are usually highly adjustable. A watch will typically have several openings attached to one another in a chain manner, which can easily be removed. Or the opening part can be removed and then reattached to the end of the chain, depending on the design of the watch. Which allows you to adjust the length of the watchband to fit you perfectly.
In my experience, these are very sturdy clasps. I've never had a jewelry clasp on a watch break, or snap open unexpectedly. However, that's my experience with high-end watches – I can't speak for jewelry clasps on cheap watches, but I imagine you could have some issues with them.
Found in: Metal watches, bracelets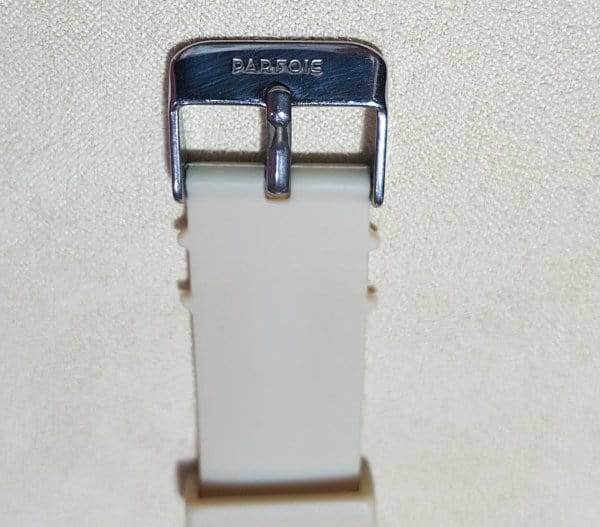 6. Tang Buckle
A tang buckle is pretty much the same as the buckle on your belt. It features a pin that you put through a hole in the band of the watch, which will have several punctured holes in it. This allows you to adjust exactly how you want the watch to fit you, without having to get it resized. And in my opinion, these types of watches are perfect as gifts, since you don't have to worry whether or not they will fit someone.
The actual buckle on the watch can be made from different materials – sometimes you'll see a metal buckle, and other times it will be a plastic buckle. There is also a difference between regular buckles and extra-wide buckles; the latter features a thicker pin, which usually does a better job of securing your watch in place. However, this often depends on the width of the actual band of the watch – a thinner band will naturally feature a more narrow buckle.
A buckle is always attached to the band with a metal bar – even plastic buckles. A common issue with these types of clasps is that the pin can get loose and fall off. But in my experience, this only happens with really cheap watches – just like it happens with really cheap belts.
You can also get such buckles with Nylon NATO and Perlon straps, which are much easier to adjust in the case of Perlon because of the tiny holes in the weave that give you lots of micro-adjustment positions.
Found in: Silicone watches, leather watches, textile watches, metal watches (rare)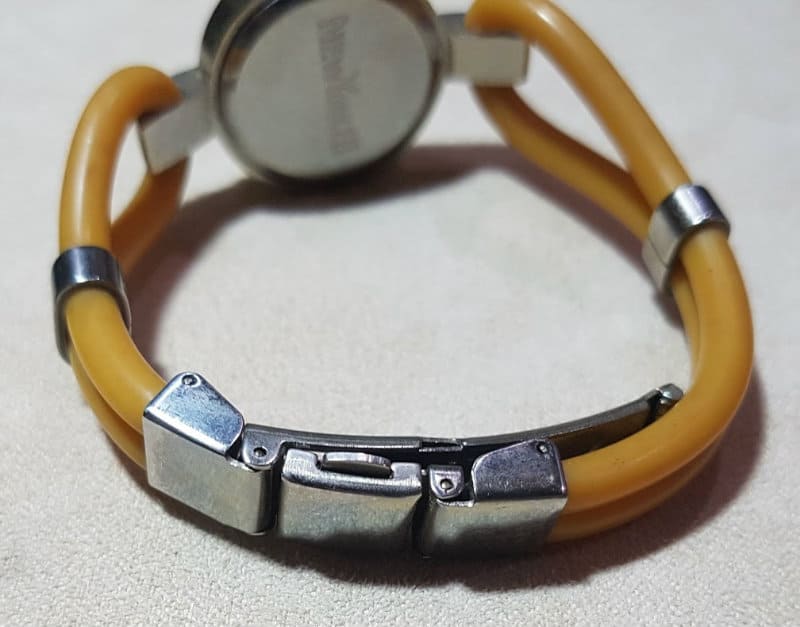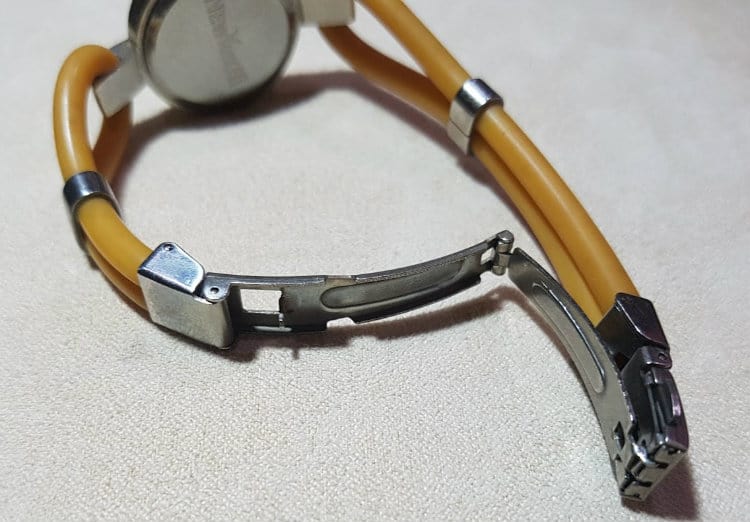 7. Safety Strap Clasp
Sometimes you'll see rubber or a leather watch with some sort of deployment clasp. And this is it – it's usually a push-button deployment clasp, but that doesn't have to be the case always. Basically, these function the same way as clasps used in metal watches, but they are attached to silicone or leather watches instead.
And I'd say that these are the biggest hassle to adjust because there's no way you can do it on your own without the proper equipment. You see, the ends of these clasps are secured to the band of the watch. If you want to make the band shorter, you need to remove the ends and cut off the excess band. And then just re-attach the clasp to the band of the watch.
There's no room for mistakes here – if you cut the band too short, you can't just piece it back together. What's done is done, and the watch will never fit you properly again. Other than that, they are pretty much your regular deployment clasps, just adjusted to fit a different type of watch band.
Found in: Leather watches, silicone watches
8. Flip Clasp
Flip clasps are made up of a single hinge, which opens to one side. The design of these can vary, but they are usually made of stainless steel. However, these are not suitable for metal watch bands; just textile and silicone ones. They are similar to safety strap buckles, with one notable difference – flip clasps are attached to the watchband with a spring bar, like regular tang buckles.
Some of them will feature push buttons for added security, while others are fastened simply by adding pressure to the clasp. Generally, they are not the securest type of clasp, especially if they don't have buttons. There is a greater risk of the clasp coming undone, than with the previous clasp types.
But in terms of adjustability, they are also not really convenient. You can't fit the watch to your wrist yourself, and you will need to have a professional do it. And the part of the clasp that is visible when it's closed is incredibly small – even smaller than with the push-button deployant clasps. Which I think is awesome.
Found in: Leather watches, silicone watches
9. Velcro
Watchbands with Velcro closure are the most simple and adjustable bands there are. You usually see Velcro straps on nylon watch bands – these are usually sports watches, and sometimes kids watch.
The Velcro strip is normally pretty wide, which allows you to adjust the length of the band however you want. However, if you need to leave it a little looser, that usually means that a part of the Velcro will be visible, so it's not the most aesthetically pleasing option.
But these are some of the sturdiest and most durable watch bands that exist. Try destroying one without an open flame, and you'll see what I mean.
Additionally, these tend to be among the more affordable bands. So, if you're looking for a quick and cheap replacement for your existing watch, definitely check these out.
Found in: Nylon watches