After a long wait, Seiko has released a new range of watches – the Seiko Alpinist 2020. There are 3 models in the range, but I am going to go into detail on the Seiko SPB117, one of the most popular of them. The other model numbers are: SPB119, SPB121 and SPB123. Each has its own specific coloring and design features, however, the SPB121 is the closest to "the Seiko Alpinist" we all know and love.
Seiko has added these 2020 Alpinist models to the Prospex family as part of their continuing designation of higher quality.
The 6R35 Automatic Movement
The movement Seiko has used in the 2020 Alpinist series is the newest in its class, the 6R35. It is a 24 jewel automatic movement with an impressive 70hr charge, hacking and hand winding. It ups the game a little from the original 6R15 movement which only had 40 hours charge.
The Dial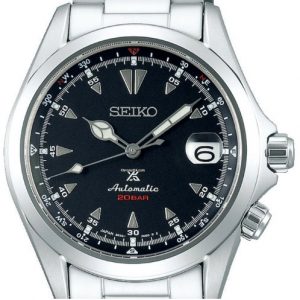 Seiko has stayed true to the previous Alpinist styling changing very little in an obvious manner. The outer compass ring on the bezel still has two rings of markings, an outer every 15 degrees, and inner every 1 degree. The North and NE/NW positions have the "N" in a more noticeable red, which helps with alignment.
The hour markers are applied triangles, with a larger double at the 12 o'clock position. There are also Arabic minutes behind each of those.
The hands are still cathedral style as in the previous Alpinist. With lume generously applied, including on the tip of the second hand. And as with most Seikos, it is easy to see in the dark because they have used lumibrite.
The writing at the 6 o'clock position has changed a little in the 2020 Alpinist to reflect the addition to the Prospex family (the X). The Diashock has gone, however, the "Automatic" has stayed, and the "20bar" water resistance is now in red.
The most notable change in the 2020 Alpinist range though is the date window. It is large and more prominent with black numerals on a white background. And there is a magnifier too, which means reading the date is not longer a test of your eyesight. Thanks Seiko!
Straps & Colors

As I mentioned earlier, the Seiko Alpinist 2020 range is available in 4 distinct models. You can see them all above. The SPB117 is the model I have been referring to, but the SPB119 is the closest to the SARB017 – the classic.
Each model has their own unique color and style with variations in dial, markings and the strap.
There are also Japan specific models available which I believe are limited edition, the run: SBDC087, SBDC089, SBDC091 & SBDC093. And correspond to those above in that order.