If you are looking for a beautiful and sophisticated dress watch, then the Tissot Le Locle Automatic is a great option. It is a rather simple watch, designed for those who don't have to prove anything to anyone.
For people who know that true elegance lies in simplicity, and not ostentation.
Is that you? If so, you're definitely in the right place – we will tell you about all of the features and specs of the Le Locle Automatic in our detailed review!
Tissot Le Locle Automatic (T41142333) Features & Specs
The Tissot Le Locle Automatic is a simple and elegant dress watch. Now, if you are a fan of chronographs, bright colors, and busy dials, you are definitely not in the right place. This watch was designed for people who appreciate simplicity and attention to detail. And if that is not you, I'm afraid you'll find this Tissot boring and not up to your standards.
But if you love thin hands, Roman numerals, and guilloche detailing, it might just be love at first sight.
Automatic movement (ETA Caliber 2824-2) with a 38-hour power reserve
Scratch-resistant sapphire crystal glass
39.3mm stainless steel case
Leather strap with push-button deployment clasp
30m / 100ft water resistance
Date window at 3 o'clock position
12-hour Roman numeral markings
Push/pull crown at 3 o'clock
If you like what you just read, then this watch will be a great fit for you. And you can read about all of those features in a lot more detail in the rest of this review!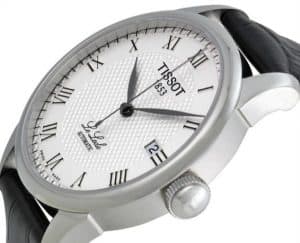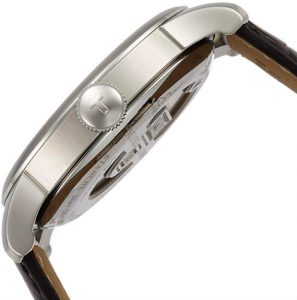 The Dial
The dial of this watch is quite beautiful. It features a silver guilloche pattern, with silver leaf hands and time markings. The detailing on the dial is amazing – the inner circle is patterned, but the circle with hour markings is not. This helps them stand out more against the dial and just makes the watch more easily legible. And then the outer ring, which features minute markers, also has a beautiful pattern.
I like that the dial of this watch is not too busy. A simple dial is better suited for such an elegant watch, especially because of the Guilloche pattern. There's the Tissot logo at the 12 o'clock position, and the Le Locle inscription at the 6 o'clock position. These writings are the same color as the hour markings, which gives this watch a more cohesive look.
But, I do wish that Tissot found a spot for a power reserve indicator on this dial. The way they designed the watch, you can't really tell how long your Le Locle Automatic will keep ticking. Maybe it was intentional, to make you wear it all the time?
The Roman numeral hour markings are quite big and very easy to read. The minute marker batons are much smaller, but thanks to their position they are also very easily legible.
Le Locle Automatic has very thin, silver leaf hour and minute hands. Because the minute hand is pretty thin, it doesn't fully obscure the view of the date window. That is one design feature I really appreciate, and the one thing that bothers me on diving watches with really thick, lume-filled hands.
The date window itself is very understated. It blends in nicely with the dial, which isn't really a good thing. Sure, the Arabic numeral that represents the date is black, but both the background and the outline are white. Because of that, the date window doesn't really stand out against the dial, and it's not too easily noticeable.
Then, there's also the long, thin, baton second hand that sweeps around the dial. Which is the reason why you will glance at the watch to see what time it is, and wind up staring at it for a good minute.
[first-two-product-column url="https://www.amazon.com/Tissot-Locle-Automatic-Stainless-Leather/dp/B000JKSS8M/?tag=watchinfo0803-20″]
[last-two-product-column url="https://www.ebay.com/sch/i.html?_nkw=Tissot+Le+Locle+Automatic%20&mkcid=1&mkrid=711-53200-19255-0&siteid=0&campid=5338916180&customid=TissotLeLocleAutomatic&toolid=10001&mkevt=1″ text="SEE PRICES ON EBAY"]
The Case & Strap
This Tissot watch features a round, stainless steel case. It is 39.3mm wide and 9.8mm thick. It is on the smaller side, which makes sense for a dress watch. The push/pull crown is stamped, and it is located at the 3 o'clock position.
To be even more specific, the case is made from 316L stainless steel. It has very low chromium content, which makes it incredibly resistant to rust and corrosion.
And then there is also the scratch-resistant sapphire crystal glass that protects that beautiful dial. It is the most durable type of crystal glass in watches, and also the most expensive one. Unfortunately, the glass on this Tissot does not have an anti-reflective coating, so there might be some legibility issues in direct sunlight.
The case back is transparent and is actually much busier than the dial. The gold-pleated rotor is exposed, and the engravings on the skeleton case back are quite beautiful. And also rare these days – most watch manufacturers will make sure to stamp all the specifications of the watch on the case back, but not all of them go out of their way to make it easy on the eyes. This is exactly why we love Tissot.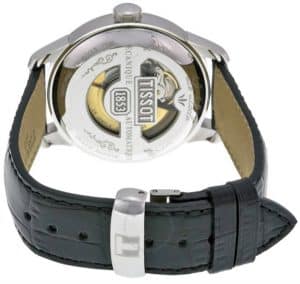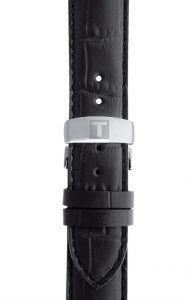 This particular Le Locle Automatic watch features a black crocodile leather bracelet. It is a little stiff right out of the box, but it will adapt to the shape of your wrist within a few days. The band is 15mm wide, and it is standard length – if you have large wrists, you should probably consider ordering a longer band from Tissot.
The strap is very typical for a dress watch, but it's not everyone's cup of tea. I personally prefer stainless steel bracelets, because they are a lot more durable. Whenever I buy a brand-new watch, I tend to wear it non-stop for the first few months. And, with such frequent wear and tear, the leather bracelets usually get creased fairly quickly. Especially because I rarely forget to unbuckle them.
There's a pro tip for you – whenever you take off this watch, remember to unbuckle the strap. It will reduce the creasing of the leather, and keep your watch looking new for a longer period of time.
The clasp of the Le Locle is a push-button deployment clasp. It is very secure, and there's virtually no chance that it will come undone accidentally. But it does take some getting used to if you're new to this type of clasp.
There is one last thing to note about the physical aspect of this watch, and that is its weight. It is extremely lightweight, at only 68 grams. And while I prefer lightweight watches that don't weigh down my wrist (particularly useful when you type for a living), people who like watches that have a presence will only be further disappointed with the Le Locle. Its weight is as understated as its design.
The Automatic Movement
The Le Locle is features automatic movement by ETA. The particular caliber in this watch is 2824-2, which supports hacking, as well as both manual and automatic winding. It has 25 jewels and 28800 vibrations per hour, with decent accuracy of +- 6 seconds per day. That number will go down to +-2 seconds per day when the movement settles.
ETA movements are used by a lot of different Swiss manufacturers, and they are usually top of the line. This caliber is no different – it is reliable and accurate, and obviously features that wonderful sweeping second hand.
However, the power reserve is a bit disappointing. And it is probably the reason why Tissot upgraded the Automatic to Powermatic – the 38 hours they claim you can get out of this watch are very generous. Realistically, it is more like 30 hours, and that is with rigorous manual winding. And with no way to tell how long your watch will keep ticking, you will need to wind this watch pretty often.
The Le Locle also winds automatically while you are wearing it. But, if you don't plan to wear it all the time, I strongly suggest you consider investing in a watch winder.
[first-two-product-column url="https://www.amazon.com/Tissot-Locle-Automatic-Stainless-Leather/dp/B000JKSS8M/?tag=watchinfo0803-20″]
[last-two-product-column url="https://www.ebay.com/sch/i.html?_nkw=Tissot+Le+Locle+Automatic%20&mkcid=1&mkrid=711-53200-19255-0&siteid=0&campid=5338916180&customid=TissotLeLocleAutomatic&toolid=10001&mkevt=1″ text="SEE PRICES ON EBAY"]
Water Resistance
Water-resistance is not really a big factor in a dress watch, but it is a nice feature to have. It gives you some peace of mind since it assures you that your watch won't stop working if you accidentally get it wet.
The Tissot Le Locle is water-resistant up to 30 meters / 100 feet. Which would be an outrage for a diving watch, but is actually pretty amazing for a dress watch. It will survive any sudden downpours, showers, and will even be okay after a quick swim.
Obviously, I don't recommend you do any of those activities. Not because it will destroy the movement of the watch, but because it will wear down the leather strap quicker. Just because it is water-resistant doesn't mean you should actually put it underwater. Like you wouldn't scratch that sapphire crystal glass with a knife, just to prove that it is indeed scratch resistant.
Final Impressions Of The Tissot Le Locle Automatic Watch
Part of the charm of this watch is that it doesn't leave a huge impression. When you enter a room, not all eyes are going to fly to your wrist. And if that is your personal style, then this is a great watch for you.
The other people will not notice the subtle detailing, the guilloche dial, the sweeping second hand, the Roman numerals, and the gold pleated rotor hidden behind the transparent case back. But you will, every time you glance down at your wrist.
This is a sophisticated dress watch, with a very simple design. It is definitely not for everyone, and it is particularly not a good fit for people with large wrists. Literally. They would need to find an alternative to the black leather bracelet.
But overall, I highly recommend the Tissot Le Locle. It is a classic, and it is a great addition to any collector's drawer. Especially at today's prices.
[first-two-product-column url="https://www.amazon.com/Tissot-Locle-Automatic-Stainless-Leather/dp/B000JKSS8M/?tag=watchinfo0803-20″]
[last-two-product-column url="https://www.ebay.com/sch/i.html?_nkw=Tissot+Le+Locle+Automatic%20&mkcid=1&mkrid=711-53200-19255-0&siteid=0&campid=5338916180&customid=TissotLeLocleAutomatic&toolid=10001&mkevt=1″ text="SEE PRICES ON EBAY"]