Thinking about getting a Tissot PR100 watch? Well, you're in luck, because I can tell you everything about it! In this review, I will tell you about all the important features of the watch – both the good and the bad ones.
The PR100 collection is fairly large, so let's be precise: the watch we're reviewing here is the PR100 Stainless Steel Quartz version (T101.410.11.041.00). It is a gorgeous dress watch that you'll want to wear every day. And functional enough that you can. Read about its best (and worst) features right here!
Tissot PR100 (T101.410.11.041.00) Features
The PR100 we've talked about in this review is one of the more basic models in the collection. That's due to the quartz movement – the least exciting of all the options. However, it's also the most affordable one, and so this PR100 has a really hot price point. Hot as in three digits, with the first two being 2 and 1.
If you like it, make sure to grab it while it's still 35%. And if you're not sure, maybe the other specs of this watch can help you make up your mind:
Swiss quartz movement
Sapphire crystal glass
39mm 316L stainless steel case
Stainless steel bracelet with push-button folding clasp
100m / 330ft water resistance
Date window at 6 o'clock marking
12-hour index time markings
Push/pull crown at 3 o'clock
This PR100 is functional enough to be your new everyday watch, but also elegant enough that you could wear it on the red carpet. It has a simple dial, which would go stunningly with a navy blue suit. And a bracelet that combines matte and high shine so well that you'll forget which was your favorite.
Tissot manages to prove that elegance lies in simplicity. So, let's talk a little bit more about that dial.
The Dial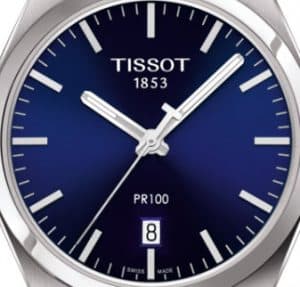 The Tissot PR100 watch has a very simple HSMD dial. The face of the dial is deep blue, and the time markers and hands are light in color, so they really stand out. And HMSD stands for Hour, Minute, Second, Date.
I really like the simplicity of the dial, especially because this is a dress watch. One of the things we look for in such watches is elegance, and the PR100 achieves that effect seamlessly. It helps that there is very little writing on the dial – there's the Tissot logo below the 12 o'clock position, and the watch model above the date. Also, there are tiny writings to the sides of the 6 o'clock hour marker, which indicate that this is a Swiss-made watch.
And, just above that 6 o'clock marker, you have a date window. It's white with black Arabic numerals and very easy to notice. You can adjust the date with the push/pull crown.
All of the hour markers are indices, and so are the minute markers. They contrast nicely with the face of the dial, so they are easy to notice.
The hands are rather simple – the second hand is a classic baton, while the hour and minute hand are more like thick baton hands. They are thick to make room for the lume, which helps keep your watch easily legible in the dark.
Because of the contrast between the markers and the dial, the watch is easily legible in daylight. However, there is no anti-reflective coating on the glass, so the visibility in the direct sunlight might not the best.
The dial is covered with sapphire crystal glass, which is amazing for the price point of this watch. It is scratch-resistant, which is pretty important if you want to wear this watch every day. The only thing you should worry about is breaking the glass – when a sapphire crystal breaks, it breaks into a billion little pieces. And it's pretty expensive to replace, so try to avoid bumping the PR100 on any nasty corners.
But in terms of everyday wear and scratches, the glass should look as good as new for a really long time.
[first-two-product-column url="https://www.amazon.com/Tissot-Stainless-Steel-Quartz-T1014101104100/dp/B010NUH194/?tag=watchinfo0803-20″]
[last-two-product-column url="https://www.ebay.com/sch/i.html?_nkw=TISSOT+PR100&mkcid=1&mkrid=711-53200-19255-0&siteid=0&campid=5338916180&customid=TISSOTPR100&toolid=10001&mkevt=1″ text="SEE PRICES ON EBAY"]
The Case & Bracelet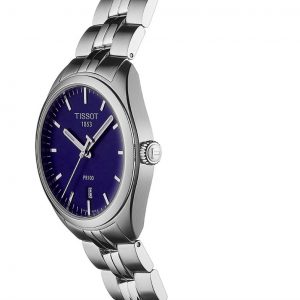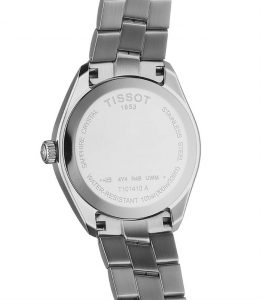 Both the case and the bracelet of the watch are made from stainless steel. The outer ring of the case is polished and with a high shine, which adds to the elegant appearance of the watch. The rest of the case is brushed stainless steel, with an overall matte look.
To be perfectly precise, the case of this Tissot is made from 316L stainless steel. That is marine grade stainless steel, and the L indicates that it has less carbon than regular stainless steel. Which is a good thing – steel with high carbon content rusts faster than one with low carbon content. But that's not something you need to be too worried about, because 316L has great corrosion resistance.
The PR100 case is 39mm long and wide, and 9.5mm thick. So, it is on the smaller side, especially when compared to watches like Seiko Samurai, which have a rather large case. I actually prefer that it is on the smaller side, but it's generally a matter of personal taste. Additionally, if you have smaller wrists, then this will fit just right.
Or if you have a girlfriend that loves to borrow your watches – the case is small enough that it won't look grotesque on a dainty female wrist.
The case also features a push/pull crown at the 3 o'clock position. It is polished and features the letter T – a subtle and elegant way of branding the PR100 again.
And then there's the back of the case. It is polished, so very shiny, and it features the information that you don't see on the dial. This includes the Tissot logo, the water-resistance indicator, the watch model number and glass, and bracelet materials.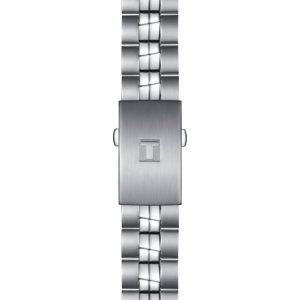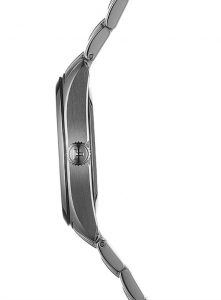 [product-button url="https://www.ebay.com/sch/i.html?_nkw=TISSOT+PR100&mkcid=1&mkrid=711-53200-19255-0&siteid=0&campid=5338916180&customid=TISSOTPR100&toolid=10001&mkevt=1″ text="SEE TISSOT PR100 ON EBAY"]
The width of the lugs and the bracelet is 20mm. And the bracelet has a rather interesting design. It features three rows of links. The links in the outer rows are matte, while the inner row is high shine. It really makes the entire watch stand out, and just look very sophisticated.
And then there's the matte clasp, with another T imprinted on it. It is a push-button folding clasp, which is fairly secure thanks to the double buttons, but also very easy to take on and off. Additionally, the clasp has a total of 5 holes that allow you to adjust the length of the bracelet and get the perfect fit.
The Quartz Movement
The price point of this watch is a little bit too good for a Tissot. Especially a Tissot with sapphire crystal glass. And then you get to the quartz movement, which helps you make sense of that price tag.
Quartz movement is the most basic and least exciting for watches. But it is also the most reliable option because quartz movement is generally the most accurate type of movement. Tissot's quartz movement in particular has a precision tolerance of -0.5/+0.7 seconds per day. When you take into consideration that mechanical movement usually has a precision tolerance of -10/+30, quartz sounds kind of great.
But it also has downsides. One of those is that the watch is battery-operated, and it does not support winding. The Tissot PR100 comes with a Renata 371 battery. It is long-lasting, and it should keep your watch ticking for several years. The only downside to it is the -10 to 60°C operating temperature range. Because of it, I would advise against wearing the watch in extreme colds – the same low temperatures that turn your smartphone into a useless brick.
Another thing that's underwhelming about quartz movement is the back of the case. As you saw in the previous section, it's just a piece of polished stainless steel with engraved words and numbers. With mechanic and automatic movement, you will often get a see-through back that allows you to observe the movement in action. And I find that to be a lot more exciting than a piece of steel.
But I am not really complaining – there's a lot of versions of the PR100 to choose from, and we're talking about the stainless steel quartz one. It performs well, it's accurate, it hacks and it has a great price.
Water Resistance
Even though this is not a dive watch, it has some of the type's characteristics. There's the lume, which allows you to easily keep track of time underwater.
And there's also the water resistance. The PR100 is water-resistant up to 100 meters / 330 feet, so you could consider diving with it. But I would advise against that – the crown is push/pull, and if you accidentally bump it underwater, you could ruin your watch.
But can it handle going underwater? It most certainly can.
[first-two-product-column url="https://www.amazon.com/Tissot-Stainless-Steel-Quartz-T1014101104100/dp/B010NUH194/?tag=watchinfo0803-20″]
[last-two-product-column url="https://www.ebay.com/sch/i.html?_nkw=TISSOT+PR100&mkcid=1&mkrid=711-53200-19255-0&siteid=0&campid=5338916180&customid=TISSOTPR100&toolid=10001&mkevt=1″ text="SEE PRICES ON EBAY"]
Final Impressions Of The Tissot PR100 Watch
I am a sucker for a good deal. And less than $215 for this Tissot watch is a really good deal.
This PR100 works both as a dress watch and as an everyday watch. The case, bracelet, and dial are all remarkably elegant, thanks to the simple, yet sophisticated touches. I love the mixture of the matte and high shine finishes of the steel because they really make this watch stand out.
The quartz movement is a bit meh, but it's what you'd expect for the price point. And if accuracy is important to you, then this is one of the best watches you can buy.
The case is on the smaller side, and it's not something everyone will love. But its size is what makes it a great dress watch. And so is the simple, yet easily legible dial.
This is a watch I would recommend to almost anyone who's a fan of Swiss design, and looking for simple and elegant arm candy.
[first-two-product-column url="https://www.amazon.com/Tissot-Stainless-Steel-Quartz-T1014101104100/dp/B010NUH194/?tag=watchinfo0803-20″]
[last-two-product-column url="https://www.ebay.com/sch/i.html?_nkw=TISSOT+PR100&mkcid=1&mkrid=711-53200-19255-0&siteid=0&campid=5338916180&customid=TISSOTPR100&toolid=10001&mkevt=1″ text="SEE PRICES ON EBAY"]