Tom Hanks is an all-American likable guy both on and off the screen. Hanks discovered his passion for acting while attending college in his home state of California. He later relocated to New York City where his career took off after landing a role in the hit movie "Splash," thanks to his acquaintance with director Ron Howard. Over four decades he portrayed dozens of endearing and unforgettable characters such as "Forrest Gump," Chuck Noland in "Castaway," and Sam Baldwin in "Sleepless in Seattle."
Tom Hanks Wears Rolex
Hanks has an affinity for the Swiss Luxury Brand Rolex perhaps because they reflect his quiet elegance. And with a massive list of box office hits grossing over $3.5 billion, he can afford to add them to his collection. Here are a few of Tom's favorite Rolex timepieces.
Rolex Milgauss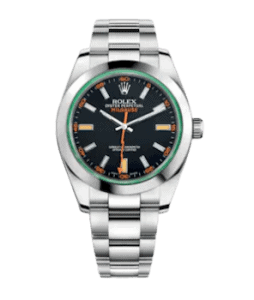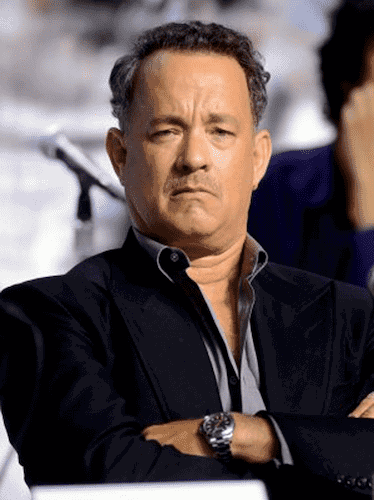 Tom Hanks is a serious professional with a playful side. The Rolex Milgauss he owns was created for scientists with a soft-iron Faraday core giving this timepiece the ability to resist up to 1,000 gausses. It has classic styling with playful details.
The black analog dial underneath a green crystal features electric alternating green and orange baton indices, black hour and minute hands tinged with green, and an orange lightning bolt seconds hand. The 40 mm stainless steel case has a smooth bezel. Complemented by an oyster bracelet, this watch can be considered a tool watch and a dress watch.
Rolex Explorer I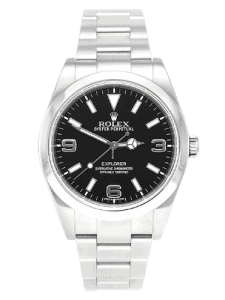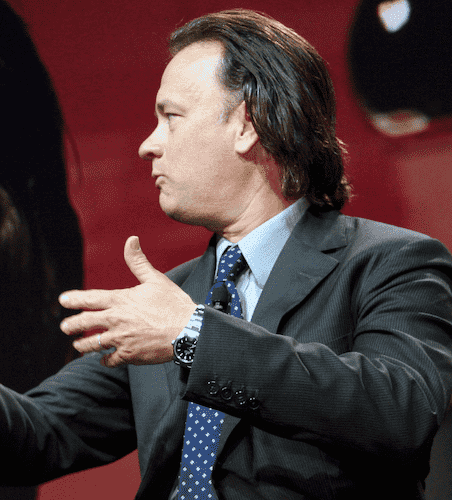 Tom expresses his adventurous spirit by wearing the Rolex Explorer I. Rolex created this timepiece to survive the harsh elements of outdoor adventures. Like Tom, it is solid and dependable with precision, self-winding movement, and a chronograph. The black dial features white luminous inlay Mercedes hands, baton hour markers, and raised Arabic numerals at the quarter hours. It has a distinctive classic look that is a good match for Tom.
Rolex Sea-Dweller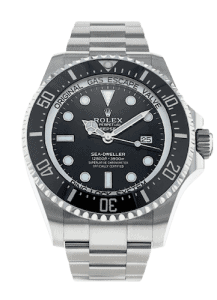 Tom's travels to filming locations take him to faraway places. He'll be ready for any extreme water adventures with his Rolex-Sea-Dweller. This timepiece has a water resistance of a whopping 4,000 ft. It features a 40mm stainless steel oyster case and self-winding movement with a chronograph.
The black dial has white luminous inlay hands and geometric hour markers. A date window is at 3 o'clock. The dial has a scratch-resistant sapphire crystal and is encircled with a black ceramic unidirectional bezel with white markings.
Tom Hanks Movies and Watches
Tom Hanks loves to play diverse, often colorful characters, and the watches spotted in the movies he stars in show that. Unlike James Bond films, Rolex doesn't fit all of his roles. Let's take a look at some of the watches he wore in a few of his movies and the characters they reflect.
Omega Speedmaster in California Typewriter and Apollo 13
[product-button url="https://www.amazon.com/Omega-Speedmaster-Chronograph-Automatic-324-30-38-50-01-001/dp/B07C59DXN3/?tag=watchinfo0803-20″ text="Omega Speedmaster"]
Tom wears an Omega Speedmaster Professional in the documentary "California Typewriter" and in the blockbuster hit "Apollo 13." This timepiece became famous as the watch that many NASA astronauts wore. It's often called an Astronaut's Watch or Moon Watch.
The documentary film "California Typewriter" centers around characters who negotiate between technology and creativity. Tom portrays himself along with a host of other real-life characters in the documentary.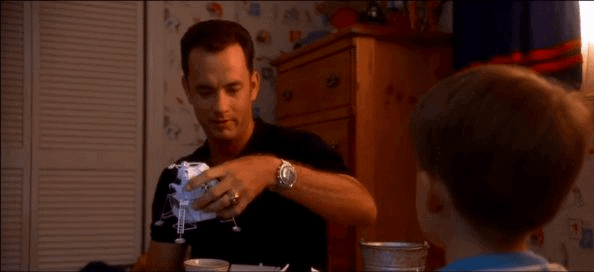 In the movie Apollo 13, Tom portrays astronaut Jim Lovell. The premise is based on the true story of the ill-fated Apollo 13 moon mission. Tom's character dreams of setting foot on the moon after contemplating how close he came while orbiting it on Apollo 8. Jim Lovell has to make some difficult decisions when once in orbit the ship veers out of control and takes them on the dark side of the moon.
Tom's line "Houston, we have a problem" becomes a household phrase. Mission Control gets the crew back to Earth safely in the hair-raising plot. Jim is disappointed that they didn't make it to the moon but declares it a "successful failure" because they are alive.
The Omega Speedmaster Professional features a 42mm stainless steel case with a solid back. The iconic black dial has luminous hands and indices and three subdials. It's surrounded by a stainless steel tachymeter bezel. With caliber 321 manual winding, functions include hours, minutes, seconds, and chronograph.
Casio G-Shock DW6900 in Captain Phillips
[product-button url="https://www.amazon.com/Casio-G-Shock-DW6900-1V-Black-Resin/dp/B000GAYQL8/?tag=watchinfo0803-20″ text="Casio Men's G-Shock DW6900-1V"]
In the movie "Captain Phillips" Tom portrays Captain Richard Phillips. It's based on the true story of the 2009 hijacking of the US container ship Maersk Alabama. The white-knuckled thriller explores the complex effects of globalization. Captain Phillips must bravely and strategically rescue his crew from Somalian pirates along with the Navy Seals.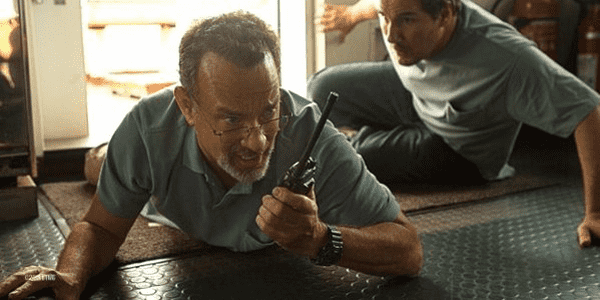 The Casio G-Shock Tom (Captain Phillips) wears fits the dangerous rescue mission he must endure. G-Shock watches are affordable and known for their indestructible construction and shock and water resistance (200 meters.) The Casio G-Shock DW6900-1V features a digital dial with illumination with day, date, and time display. Functions include a countdown timer, 1/100 sec. stopwatch and auto-calendar. It has a strong black resin band.
Quemex Sport in Larry Crowne
The movie "Larry Crowne" is a comedy-drama romance story with the theme "it's never too late to start living again." Tom plays Larry Crowne, a likable middle-aged superstar team leader at the successful company where he works. After losing his job to downsizing, he falls behind on his mortgage and refinancing falls through.
He decides to reinvent his life by going back to college. He falls in love with Mercedes Tainot (Julia Roberts), a public speaking teacher who is as disillusioned with her job as she is her husband. Like most of Tom Hank's romance flicks, this one has a "happily ever after" ending.
The vintage watch Tom wears in the movie is a vintage digital Quemex Sport Watch. The exact model or reference number is unknown but the style matches one from the 1980s. It is a digital LCD chronograph-alarm watch with a distinct techy look. Quemex is a Chinese manufacturer that exports watches and clocks.
Credit to Wikimedia for the image used in the header.